As spring gets underway, this will guide you through
the best of the calendar this April
1. Art & Exhibitions
Watch Twelfth Night
In casting Tamsin Greig as "Malvolia", director Simon Godwin refocuses Twelfth Night. Tamsin Greig stars in the National Theatre's adaptation of this beloved Shakespearean classic where romance and gender collide with comedic flair.
Tickets from £15 at Nationaltheatre.com.
Master the art of the selfie
We all knew it: It was only a matter of time until someone decided that a selfie can be classified as a work of art. The Saatchi Gallery is –  as always – one step ahead of the curve with its pioneering exhibition: From Selfie to Self-Expression.
Free admission at Saatchigallery.com.
2. Easter Choccolate Treats
Try a chocolate scotch egg
Decadent cream egg-style fondant. covered in a brownie ganache and then rolled in crushed mini eggs. Is your mouth watering yet?
3.Things to Do
"The Passion of Christ"
Participate in a mass religious-inspired performance of Jesus' final days. As every year a re-enactment of Jesus' final days, via a free performance from more than 100 actors, volunteers and performers. The 90-minute performances  are also projected onto big screens,
Friday 14th April; 12pm and 3.15pm, Trafalgar Square
The wildest egg hunt
An Easter egg hunt alongside entertainment and activities. This Easter Sunday you'll be witnessing the  'the wildest egg hunt in South London' – with lots of fun and "wild" activities such as magicians, craft activities, performers and face painters. This event is for all ages all day before Midnight Riot Records take over at nightfall for an epic adults-only after-party.
Sunday 16th April  at Pop Brixton
Easter Light Show & 500th anniversary at Hampton Court Palace
Hampton Court Palace is celebrating its 500th anniversary this year over the Bank Holiday Weekend. This will involve a  live cooking event in the Tudor Style,  and the launch of TimePlays – a series of micro-plays telling the stories of the palace's rich history.
There is also a spectacular Easter Light Show every evening. hcp500.hrp.org.uk
Southbank Easter Fun Fair
Workshops, family activities, dance schools and parties at Southbank Centre, easter Food Market, even a bunny. This is what you wouldn't really want to miss out. FOMO is bad.
https://southbanklondon.com/our-guide-to-easter-on-south-bank
When 1-17 Apr
Tall Ships Regatta
More than 30 vessels sailing along the Greenwich and Woolwich riverfronts for you to enjoy river-themed activities and fireworks.
13-16 Apr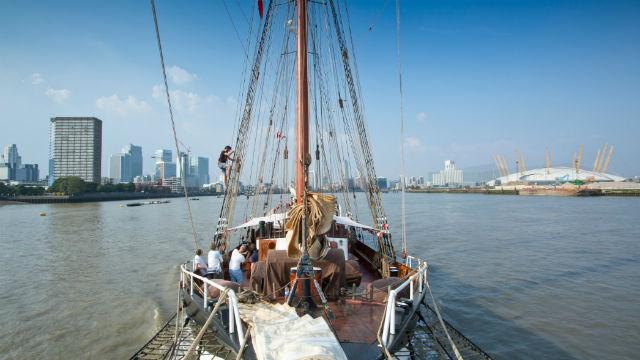 Easter Opening Hours and Transport in London
Good Friday and Easter Monday are both public holidays.
Most attractions are open over the Easter bank holiday, but check with individual venues in advance; particularly to find what is open on Easter Sunday in London. Shops are closed on Easter Sunday, Public transport services, including the London Underground, may be reduced between Good Friday and Easter Monday, so plan your journey in advance.