January:
"The Joke"

Milan Kundera is my favourite author and he has never disappointed me so far. His way of writing is brilliant, The Joke is about what you don't expect to happen, but that shapes your life instead and your way of thinking even. This book also talks about political analysis, historical references and discussions of music and post-modern narrators and finally, love. Needless to say, truly recommended.
February:
"The Girls"
Written by Emma Clint
Even though I've heard many good things about this book, I must admit that I fail to understand the reason why. It brings me back to my teenage years and those books you read while on holiday to lighten the weight of more "heavyweight" books that you have to study instead.
It's based in the 60's, the plot is about the life of troubled teenagers living in Northern California.
I totally struggled to get to through the end of it.
March:
"Modern Romance"

Written by Aziz Ansari
Borrowed by a colleague of mine, I really couldn't wait to read the stories of Modern Romance, a book about an era of technology-based communication and now even flirtation. Gone are the days of the bold first moves at the local cafe' when an exchange of smiles could have meant the begin of something. Things are changing fast, but not necessarily in a bad way, this according to the Author at least.
Do you agree?
April:
"If on a Winter's night a traveller"
Written by Italo Calvino
A very different writing style, experimental. A postmodern classic, different stories are written in a humorous and deeply engaging manner. Mystery, love, spies you have it all in this book. Truly recommended.
May:
"1Q84"
 Written by Haruki Murakami
Less keen on the magical fiction genre, however still intrigued by the story. A mix between a love story, a novel, a self-discovery journey of both the protagonists (Tengo and Aomame), but also a "rival" to the dystopian reality of 1984 by George Orwell. Well written, though a bit repetitive, probably one of the reason why it's 900+ pages.
June:
"As the crow flies"
Written by Véronique Tadjo, Wangui wa Goro
"Indeed I too would have loved to write one of those serene stories with a beginning and an end. As you know only too well, it is never like that, though. Lives mingle, people tame one another and part. Destinies are lost."
Tadjo flies over different lives and experiences – as a crow does – in search of truth.
July:
"Per dieci minuti"
 Written by Chiara Gamberale
This Book is written by one of my favourite contemporary Italian novelists, suddenly Chiara's life no longer exists, at least how she used to define it.  Because sometimes life can challenge you and can happen that your partner leaves you and that you have to leave the house in which you grew up. That your work may be entrusted to another. Her therapist then suggests her that for a whole month, every day, for at least ten minutes, she has to do a new thing that she has never done before. This will lead to surprising choices. Chiara Gamberale it's telling us that changes are scary, but are necessary to get back to "life".
Even though the reviews of this book aren't generally great, I've truly enjoyed. A quick read (on a 3-hour flight from Rome to London) but overall very pleasant.
August:
"1984"

Written by George Orwell
One of my favourite books so far… I love novels, but when novels have some science fiction in them then it's the perfect mix for me. This is one of the classic books and I don't have any idea of why it took me so long to decide to finally read it!
The year is 1984 and George Orwell's prophetic and dystopian vision (or negative utopia) of how the world will be by that time has hooked me from the very first line.
"WAR IS PEACE.

FREEDOM IS SLAVERY.

IGNORANCE IS STRENGTH."
September:
"Thinking Fast and Slow"
Written by Daniel Kahneman
Aim to engage and challenge the reader on the way we think. Intuitions are not always to be trusted, while slow thinking might be the better choice. This is part of our nature that makes us sometimes biased or making us tend to jump to conclusions too fast.
October:
"The 10X Rule"
A dear friend gave it to me as a gift and told me" You MUST read this" it totally changed the way I approach life goals. I then read it and thanked it for the suggestion, I won't take every single word of the author of the book as the "Holy Grail of life" but definitely is a broader perspective that we should take into consideration. It basically explains that, in order to achieve our goals, we should put 10 times the effort and establish a 10times higher outcome. In order to keep us all always motivated and engaged.
November:
"The Rosie Project"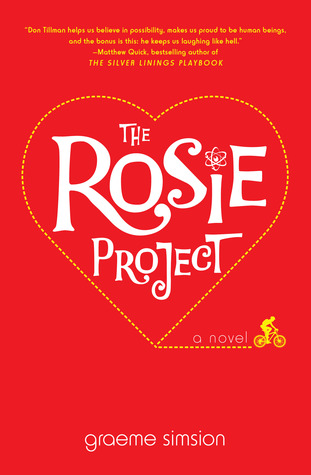 By Graeme Simsion. Published in 2013
Don Tillman is an Associate Professor of genetics at the University of Melbourne, he's charming but he's never been on a second date. He's also socially challenged and has Asperger's syndrome but he doesn't know that.  Before completely losing hope of finding his soul mate,  he decides to embark upon a singular project called "The Wife Project".The scientifically minded scientist makes a list of all the characteristics his future spouse will need to possess, however, on the journey to the perfect match he will randomly meet a woman who definitely won't check any "item" on the list.
This book is fun, well written and engaging. I like the fact that this book, event tough highlights serious issues that people with the disease face every day in their life,  also shows that if you move beyond the irregularities of a person, we all have something to offer and that we all have value and strengths and all deserve respect and to be treated with dignity.
December:
"Brave New World"
Written by Aldous Huxley
"Actual happiness always looks pretty squalid in comparison with the overcompensations for misery. And, of course, stability isn't nearly so spectacular as instability. And being contented has none of the glamour of a good fight against misfortune, none of the picturesqueness of a struggle with temptation, or a fatal overthrow by passion or doubt. Happiness is never grand." 
Aldous Huxley narrates about a future where the World is controlled by people that want to build the ideal society.
A masterpiece.